Your Supra Journey
Whether you have just have an idea to enable or a challenge to solve, Supra can be your development and IT transformation partner of choice. We work with our clients through the entire solution journey with flexible sourcing options.
Your Supra Software Services Journey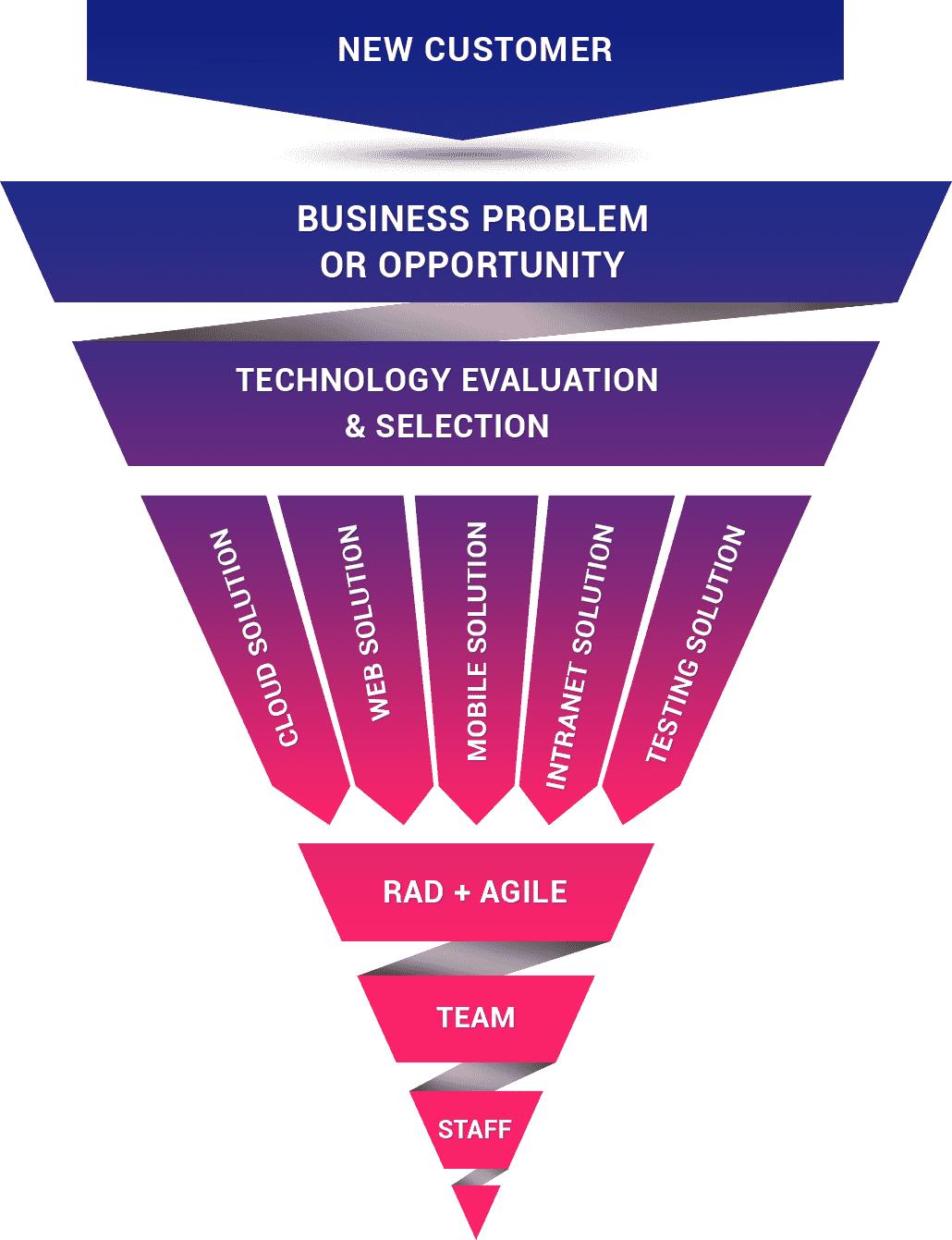 At Supra we serve our clients along the entire path of your project journey. We recognize that every client and every project have different needs and at different times. At Supra we are first and foremost interested in understanding what you are needing to accomplish and how an outside firm can assist you.
While we are a full stack, full-service IT services and consulting firm we also recognize that your need at the moment may be for a specialist or two to help you solve a specific problem or accelerate your project in these very tight labor markets. Many of our clients start with Supra in this manner and over time as our impact to your business deepens, so does our relationship often ending up with us taking on entire projects for our clients.
At Supra, we are happy to bring our services and capabilities to your project as you need them, where you need them and when you need them in a process, we call FlexSourcing. We have built our entire company and processes to serve our clients with this core value. No matter where you are in your project journey, we can help you accelerate your journey to success.
01
The Business Opportunity or Challenge
Many of our new clients come to us with a vision of what they need to accomplish their goal. In some cases what we have seen is just a set of notes on paper and the client needing our assistance to turn those notes into a solution. Our process starts by gaining a deeper understanding of your business and your customers to come to a clear understanding of how to help you build the solution that will help you achieve your business goals. Already this answer, no problem; we are happy to take your detailed vision and move your vision forward.
02
Solving for the Technology
Often, we have client that have the solution for the business problem or opportunity but are still needing some advice on what technology option can best solve the immediate challenge while building for the future. Some clients have spoken with other firms or have very strong opinions from internal stakeholders but would like a third-party neutral view of what technology approach is the right one for their current situation. If you have your technology vision and architecture complete, we can step in with our core IT services in a flexible model to partner with you and your team to drive your project to completion.
03
Supra's Core Service Portfolio
Whether your solution us is in the cloud or on your own infrastructure and using the latest web or mobile technologies to interact with your customers, we have the resources and experience to help you move to executing on our vision. As a full stack, full-service technology firm we have the experience and skills to help you engineer, develop, test, deploy and support your solution for the long term.
04
Development Approach
New clients often ask how we fit in with their current development approach. For Supra, it's a simple strategy to provide the highly skilled resources you need in a way that fits into your overall project and business. For some the need us for Supra to take on a complete project where we manage the entire effort with our resources both onshore and remote. For others the need is for a smaller specialist team of experts to take on a specific part of a project to help our clients focus on their core capabilities and business. We are versant in all of the methodologies that have gained traction but also specialize in Rapid Application Development using Agile Methodology. Our clients have found that this approach gives them the control and granularity they need to succeed.
05
The FlexSource: Our Fractional Staffing Foundation
The key to starting a new relationship with a new vendor or partner is mitigating risk and filling holes that may exist in a current or planned project or team. For Supra we understand that means responding with a flexible model that meets you needs now and in the future. Many firms seem to either be in the "staffing space" or are only interested in "projects", where that are managing the outcome. While at Supra we have those same abilities, we are happy to solve your human capital and project needs as best fits your business. Whether you need a project team, a handful of resources to take on part of a project as part of your team, or just an expert or two, we are happy to be your partner of choice.